Payment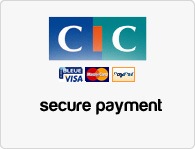 Credit card
We accept credit cards, Visa Mastercard and American Express. When you pay by credit card, your transaction is completely secure. We use the secure system of our French bank CIC. Exchanges are encrypted using SSL which is the global standard for Internet payments. Your transaction is performed directly on the server of our French bank CIC. We do not store your bank details (card number, confidential data). To finalize your purchase, you will be directed to our French bank CIC's secure interface.
Paypal
With PayPal, your payment is entirely secure. At no time, you will connect to your bank when you purchase. Paypal encrypts and secures your data. PayPal acts as an intermediary to conduct your transactions.
Bank transfert
You can pay by bank transfer. When choosing the method of payment click on "bank transfer". We shall send you a confirmation email with our bank details so that you make the transfer to our account. For payment by bank transfer, you have a delay of 5 days after confirmation of your order for payment. After this period of five days, your order will be canceled. You will have to take entirely charge of any costs related to the transfer of your account to our account. As soon as we receive your payment on our account, we'll send you your parcel.
Bank account:
Bank code
Branch code
Account number
RIB key
Bank
13825
00200
08010902624
30
CE RHONE ALPES
IBAN
FR76 1382 5002 0008 0109 0262 430
BIC / SWIFT
CEPAFRPP382